Transforming the public sector
Guiding agencies through digital transformations focused on sunsetting legacy technology, improving operational efficiency and modern digital solutions for citizens
Where do you start to make it better?
Confronted with decades-old legacy technology and an inability to serve your customers and constituents the way they expect.
The challenge of empowering staff to innovate while current technology widens the engagement and inefficiency gap.  As a result, you don't know where to begin, how to scope the first project, how to find an experienced partner that understands your business as much as the technology. This can lead to your citizens feeling under-served and frustrated. and employees struggling with a lack of capabilities to do their jobs well and stuck with the status quo.  
Leverage our industry knowledge and implementation expertise to operate smarter, achieve more, and improve services.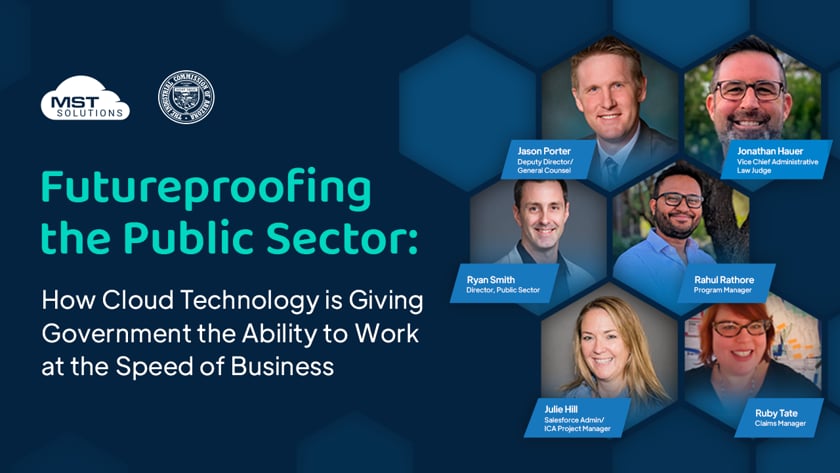 Raise the bar on your operational efficiencies
Leave behind the technology that prevents you from serving your customers efficiently. Begin by working with our team to help scope a project that provides quick value and continue to add
value incrementally
from there. By investing in a platform and using platform development best practices, your agency can realize value sooner than later.
Get project buy-in and strategic support
Leverage our experience of working side-by-side with the public sector to help you articulate the path toward digital transformation in a thoughtful agency-specific plan. Let us help you connect, and win, with internal stakeholders and external constituents.
Understand and master the implementation process
Let our expertise be your guide so you can gain knowledge in initiating, procuring and implementing projects in the public sector, where our sector experts can help you formulate an implementation plan that is
cost-effective
, and value-driven.
A proven methodology that gets you there
It's easy to connect with customers and constituents when you have the solutions that meet the unique needs of your agency and its members. Our Three D approach identifies pain points and builds solutions to eliminate them, increasing your productivity.
Relationships built on a foundation of strategy
As Salesforce experts, we guide our clients from requirements definition scope selection to implementation, training and org change management to maintenance. Our deep experience working across various state and local agencies coupled with Salesforce consulting expertise provides the partnership and team to guide your agency through modernization. Delivering commercially off the shelf solutions to power new services and engagement with the customer is where we thrive.
MST specializes in the following agency solutions:
Customer Service, Electronic Applications & Call Center – Serving your customers when and how they want through customer service solutions including case management, self-service web portals and other modern solutions. 
Licensing, Permitting & Investigations – Serving commercial, professional and regulatory boards and commissions to qualify, enforce and manage licensure  
Workers Compensation – Providing modern workers comp solutions that enables compliance, efficiency in claims processing and collaboration with the constituent community 
Economic Development – Delivering solutions that manage programs and reports key performance metrics and innovating  through process and tech to unleash business attraction and expansion strategies 
Strategic IT Portfolio Planning – Delivering statewide IT governance tools where strategic plans are submitted, managed and aggregated for reporting and analysis.  
MST Solutions took a multi-layered, complex system that had been built upon for over thirty years, and turned that into a modern, effective tool with automated claims intake forms, workflows, tasks, analytics, real-time data, and intelligent dashboards.
MST was able to look at our unique business case and create and enhance tools in our salesforce system that enable us to execute our work more efficiently and increase productivity.
So, what we did at the Registrar of Contractors, the ROC, we embarked on a mission to provide everything needed to submit an application or file a complaint online. We asked and listened to our customers and developed requirements to meet those needs. We knew Salesforce was a Cadillac platform. It's all over the news.
Most organizations are expected to undergo digital transformation at some point as establishing a digital business has become top of mind across nearly every industry. According to IDG, 91% of organizations have adopted, or have plans to adopt, a "digital-first" business strategy. And for many, this has become a very urgent reality over the last several months.
In recent years and particularly in recent months, numerous factors have forced state and local governments to reassess their spending. Now, Licensing agencies are facing a considerable dilemma these days — modernize processes while working with a limited budget. But there are solutions for digitizing with a limited budget.
If your licensing organization is evaluating solutions to enable automation and delivery of virtual services, it's natural to prioritize finding the right technology over aligning with the right implementation partner. Here's why you should consider the partner first.